French equality index between women and men 2022
NATAÏS MAINTAINS ITS SCORE OF 97 POINTS OUT OF 100 ON THE GENDER EQUALITY INDEX FOR THE YEAR 2022.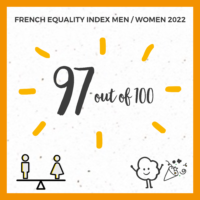 For 2022, Nataïs is continuing its commitment to equality and diversity by obtaining the same score as in 2021 for the French gender equality index: 97 points out of 100.
It is thanks to the involvement of the entire #popcornfamily and a culture of diversity shared by everyone at Nataïs that we have once again achieved this excellent score.
For 2023, we are determined to maintain our efforts and commitments to make further progress on equality between men and women, which is the DNA and wealth of Nataïs.
Together, let our talent
pop!
Nataïs, beyond the gender equality index

47 % of women and 53 % of men in our workforce
54 % des cadres sont des femmesof managers are women
---
OUR SCORE IN SUMMARY
For companies with fewer than 250 employees, the gender equality index corresponds to the sum of the results obtained by the company for each of the 4 indicators summarized in the following table:
Indicators
Indicators 2021
Points obtained in 2021
Indicators 2022
Points obtained in 2022
Maximum points
1.Pay gap between women and men, for the same job and at equivalent age (as a %)
2,4%
37
2.5%
37
/ 40
2. Difference in individual pay increases between women and men (as % points or in terms of number of employees)
4,4%
35
5,5%
35
/ 35
3. Percentage of female employees who benefited from an increase upon return from maternity leave (as a %)
100%
15
100%
15
/ 15
4. Parity amongst the 10 employees who received the highest remuneration

5 men

5 women

10

6 women

4 men

Sexe sous-représenté

10
/ 10
INDEX SCORE
 
97
 
97
/ 100
OUR SCORE IN DETAIL
1. PAY GAP BETWEEN WOMEN AND MEN, FOR THE SAME JOB AND AT EQUIVALENT AGE (AS A %)
Nataïs scored 37 out of 40. 
The methodology foresees the calculation of this indicator according to predefined social and professional categories and age groups. This is followed by the definition of population groups that can only be valid if they are composed of at least 3 women and 3 men.
On the other hand, the calculation methodology does not take into account the competence management approach. The absence of this concept, which is essential at Nataïs, makes it more difficult to read the 2.5% difference.
2. DIFFERENCE IN INDIVIDUAL PAY INCREASES BETWEEN WOMEN AND MEN (AS % POINTS OR IN TERMS OF NUMBER OF EMPLOYEES)
Nataïs scored 35 out of 35.
This result is explained by the fact that the number of women receiving a raise in 2021 is greater than that of men. 
The administration therefore considers that Nataïs has implemented corrective measures, which enables us to obtain the maximum score of 35 points out of 35 for this indicator.
3. PERCENTAGE OF FEMALE EMPLOYEES WHO BENEFITED FROM AN INCREASE UPON RETURN FROM MATERNITY LEAVE (AS A %)
Nataïs scored 15 points out of 15.
100% of our female employees received a raise before, during or after returning from maternity leave. This means that we achieve the maximum score of 15 points out of 15 for this indicator.
4. PARITY AMONGST THE 10 EMPLOYEES WHO RECEIVED THE HIGHEST REMUNERATION
Nataïs scored 10 points out of 10.
Among the 10 highest earners in 2022, Nataïs has 5 men and 5 women, giving us the maximum score of 10 points out of 10 for this indicator.
PROFESSIONAL EQUALITY, A FRENCH GOVERNMENTAL PRIORITY
In accordance with the provisions of the French "Avenir" law of 5 September 2018, the French government sought to put in place a specific action plan designed to eliminate the pay gap between women and men, notably by bringing into law the obligation to publish the professional gender equality index.
Accordingly, all companies with more than 50 employees publish in the public domain and annually their professional gender equality index so that any potential discrepancies can be evaluated, and corrective measures put in place.
Click here for more information about the calculation and regulation of this index