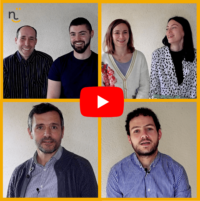 Discover our new production line: the Multigram
Installed since last september, it is time to introduce you our new production line, called Multigram. 
This project was particularly important to us because it enabled us to integrate into our factory, in Bézéril, an activity that had previously been outsourced to a partner in Germany.
As a result, since last September we have been able to produce and offer our customers kernels to pop for home cooking in 250g, 400g and 500g bags. So that you can discover this new line and its technical, strategic and commercial challenges, we are offering you a series of interviews with the women and men of Nataïs who participated part in this major project. 
A project supported by "France Relance" plan
Michael Ehmann, CEO and founder of Nataïs, presents the specificity of this production line, its strategic interest and its financing by the "France Relance" plan. 
Before the operational launch, a long technical process
Olivier, Technical Manager, and Clément, Trainer-Coordinator, explain how the supplier of this new line was chosen, the equipment that makes it up, and the testing and adjustment phases necessary to achieve optimal operation of the line before its operational launch.
The role of the R&D and Supply Chain departments
Audrey, R&D Engineer and Alice, Supply Chain Manager, present the challenges of producing a new product format from the choice of raw materials to the design of the packaging.
Multigram, a response to the boom in home-made products
Nicolas, Export Sales Manager, presents the importance of diversifying our offer by proposing this new product to our customers as well as the trend of homemade food which has developed among consumers, in particular because of the various restrictions experienced during the health crisis. He also mentions our ambitions for 2022 for this new range of products!